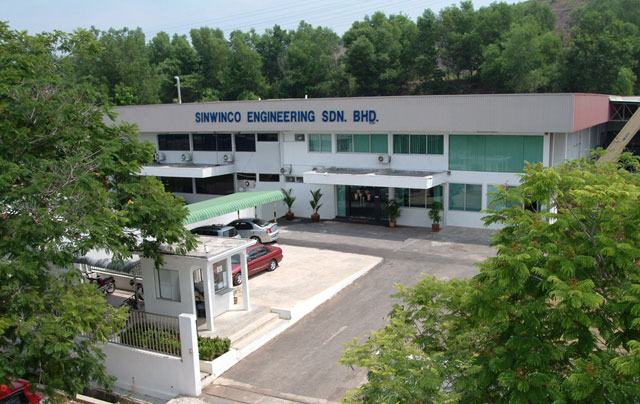 SINWINCO ENGINEERING SDN. BHD. incorporated in March 1995, is a manufacturer of Butt Fusion Machine in Malaysia. The factory located in Sungai Petani Kedah, Malaysia is locally managed with technical support and backup to ensure good manufacturing practices and consistent high product quality.
HISTORY
Perniagaan & Kejuruteraan Winko was establishing in 1995. The company started with the production of the machines used for Polyethylene (PE) water pipes welding. The early models include Manual system (Model: M160 and M180), Semi Automatic System (Model P280, P345, P355 and P400) and Hand Pump system (Model: HP160, HP180 and HP225).
In 1998, Perniagaan & Kejuruteraan Winko moved into a larger premise and was then registered as a private limited company with the name Perniagaan & Kejuruteraan Sinwinco Sdn. Bhd. In the same year, the company has started research and development work on Automatic Butt Fusion machine for Polyethylene (PE) water pipe welding. By end of 1998, the first Fully Automatic Butt Fusion machine was produced. The machine was named WINKON Automatic Butt Fusion Machine.
SINWINCO is the first company to produce Automatic Butt Fusion machine for use in water distribution systems using Polyethylene (PE) pipes in Malaysia since 1998. This product was widely applied for gas, diesel, waste water and other fluid under pressure pipelines construction.
In the year 2000, Perniagaan & Kejuruteraan Sinwinco Sdn. Bhd. has increase it s paid up capital and was then renamed Sinwinco Engineering Sdn. Bhd. The company has expanded its scope. It has now started producing the heavy duty grabs, which is commonly used in the scrap yard. Parallels, we are working with the national and international standard committee to upgrade and improve the quality of the machine adhere to ISO9001-2000 standard and guidelines.
MILESTONE
WINKON Automatic Butt Fusion machine has been sent for test in Standard and Industrial Research Institute of Malaysia (SIRIM). After thorough test in accordance to ISO 12176-1, our machine has been certified to comply with the standard. Nevertheless, we continuously exchange of experiences with the user is the basis of our daily work.
With good products and after sales services, WINKON Butt Fusion Machine not only well-known in Malaysia but also in South East Asia, Asia, Australia, New Zealand, Middle East, South America, Great China, Pakistan, Spain, Africa and some other areas.
Sinwinco Engineering Sdn. Bhd. is now the world s leading manufacturer of butt fusion machine has developed production base in Guangzhou, China to serve a fast growing customer base.

Together let us work towards WINKON philosophy For A Perfect Quality and Safe Welding .
CONTACT
Sinwinco Engineering Sdn. Bhd.
No. 9, Kawasan Perusahaan LPK, Fasa 4, Taman Ria Jaya, 08000 Sungai Petani, Kedah, Malaysia.
Guangzhou Sinwinco Fusion Technology Pvt. Ltd.
No. 2 Building 1, 48 Hongmian Avenue Xinhua Town Huadu District, Guangzhou, China.